October 9, 2008
HELP FEED HUNGRY CHILDREN ALL OVER THE WORLD ~ it will cost you nothing.
Every click helps to feed a hungry child. Join me in clicking and feeding children EVERY DAY! You would be surprised at how much of a difference your effort can make…in only a moment you can feed 8 children or more by simply clicking a few ad banners (even if you can not read the language, your click counts)
This is not a site that is connected with some kind of investment program, but it is connected with advertisers money and what it can do to feed hungry children. It is very famous site in Poland and has been functioning online since 2002 . It was established by PAH - Polish Humanitarian Organisation
You can read more about this program here:*
http://www.pah.org.pl/7184.html
and You can start feeding hungry children - by visiting this site:*
http://www.pajacyk.pl/
and clicking the Wooden Puppet's belly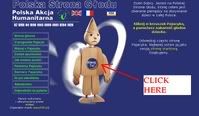 in the section " Ile juz zebralismy " you can look at the daily/weekly and overall performance.
Be sure to click ALL the advertisers banners on the page, sometimes there are up to 8 other times only a few. Remember, Every click helps to feed a hungry child. Join me in clicking and feeding children EVERY DAY! You would be surprised at how much of a difference your effort can make.
*IF the site is not showing in English, just click the British/English flag at the top in the toolbar.
THANK YOU VERY MUCH FOR YOUR HELP IN FEEDING HUNGRY CHILDREN ALL OVER THE WORLD!
Entry Filed under: Helping Others. Tags: children, feed the children, helping, polish, puppet.